Dutch Creek Trails Horseback Blog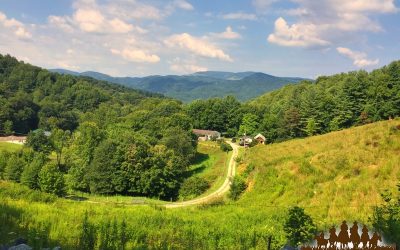 The peaceful, scenic town of Valle Crucis is a relatively untouched treasure of a community along the parkway. Three streams converge in the shape of an archbishop's cross here, giving the town its name, which means "valley of the cross" in Latin. The perfect way to...
Highly recommend!
We took our granddaughter to see and familiarize herself with the horses and everyone was just fantastic. She took a short ride and was thrilled. Amanda and Jonah were so friendly and knowledgeable. We will go back again!
We went for a ride for my birthday and had a great time. They were running behind because of all the rain, and the trails were muddy and slick, so we got out there late. They well accommodated the family of 7 before us, settling the 6 year old on a horse even though she was scared. But our guide, Travis, was awesome. We had a fun time with him and can't wait to come back here. Plus, its a great workout for your abs and legs!
I took my daughter and her best friend riding for my daughters 19th birthday on Saturday 10~8~22. This place and ALL of the staff there really do make dreams come true. I am 42 and have never rode a Percheron horse… Honestly it was a dream! My daughter fell in love with the horse that she was assigned….also the one she was hoping for Khoal….and her best friend who had never rode a horse was on Spanky.. Thank you all so much! Can't wait to return next year 10~7~23! And have even discussed coming back even sooner than that!