Keith Ward – Cowboy Poet
Put yourself in the mind of a little 7 or 8 year old boy, growing up on a farm in the Appalachian Mountains of North Carolina in the early 1960s. My first mount was a little bay pony-horse named Sugar Foot. My only connection to the west … those old TV Westerns.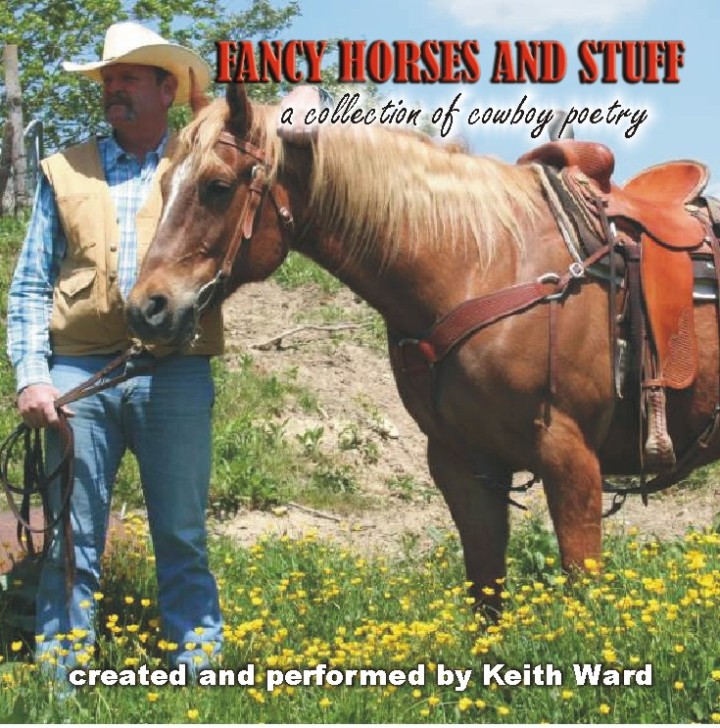 My Heart Beats Free
Oh how I loved them TV shows and the stories I'd read,
About the cowboys and their horses free and brave.
Heroes to us young boys, a rare and special breed.
Taught us how true men should behave.
And I'd dream about someday and I'd dream about the west.
And I'd dream about the man that I would be.
And I felt that man's heart beating inside a boy's chest,
And I knew that heart would die if not set free.
So I'd saddle up ole Sugar Foot and I'd hit a mountain trail,
And time and place and boredom were no more.
I was Little Joe or Blue Boy, riding the High Chaparral.
There were fights to fight and new worlds to explore.
And there were outlaws and Indians behind every tree,
But I was savvy to their wild and wily schemes.
Sometimes we would fight em off, sometimes we would flee,
But we were always heroes in my cowboy dreams.
And I've lived the life I've chosen, and I've LIVED it, every day.
I've fought them fights and I've seen new places grand.
I've learned to laugh and learned to cry and when to just ride away,
And the best of times are usually those unplanned.
Years pass by so quickly and living takes its toll,
And these old bones are broken, tired and sore.
But deep inside I'm peaceful, in my heart and soul,
Though I know there'll come a time, I'll ride no more.
And I dream about yesterday and I dream about the west,
And I dream about that boy I used to be,
And I feel that boys heart beating inside this man's chest,
And I thank God that young boy's heart was set free.
– Keith Ward 2012
---
It's Cowboy Poetry Week. April 21st through 27th. Check out www.cowboypoetry.com
The song you are hearing is " Don't Tell Me" sung by R.W. Hampton and written by Mike Beck
I have been writing poetry since childhood. I went to my first Cowboy Poetry gathering in Elko NV. in 2008 where I participated in the open mic sessions. I'm on the wrong side of the Mississippi. I didn't know there was such a thing till that year. What is it about cowboy poetry? My dear friend Brooksie said it best.
"Why poetry? Why a life long love of the well-crafted lines? Well, if we were able to define or describe feelings, they wouldn't be feelings. Poetry is as close as we can come to communicating the feel—with feeble words." – Jerry Brooks
Pick up a CD when you come to visit, or call me and I'll mail you one. For more information about Cowboy Poetry check out www.cowboypoetry.com
This place is literally awesome! I loved everyone and i think all the guides are hilarious. I had some very nice conversations with Jessica, and Jonah and I got along really well too. My cousin and I went together and we loved them so much that we went back a second time before our vacation was over. The workers get along with each other very well and were constantly joking around with each other, which was pleasant, and they're always ready to help if you have any questions. I rode Chiquita and my cousin rode Honor and they even gave us the option of riding them again the second time when we came back! Definitely a place you want to go if you have kids a little older that have interest in riding horses. I noticed that Jonah did his best to cheer up any kids that got upset along the way. And the three dogs who walked the trails with the horses were completely amazing, even Jessica's dog got on her horse with her in the beginning. We had so much fun and definitely plan on paying another visit! Thank you guys so much!
My daughter and I went on a trail ride over spring break, my daughter has been taking lessons about two years but doesn't get the chance to ride outside of an arena very often and I haven't ridden in years so we took this opportunity to get out on a trail. We had a great time, the horses were obviously well taken care of, beautiful, and well trained and the trail guides were very friendly and answered questions and helped take pictures. They even gave my daughter a horseshoe that her horse had worn as a special souvenir. They were very patient too! The trail takes you up and down hills, curves, there is some rocky and muddy areas too so if you haven't ridden before its a bit of a rough trail for beginners or super young kids. If you have ridden a few times though it should be no problem.
This was my family's 2nd time with Dutch Creek Trails; the first was in July 2020. It was me (a 52-year-old male), my 18-year-old daughter, and 13-year-old son. We arrived this morning (August 1, 2022) at 0945 EDT for our 1000 EDT outing. There were 2 other families in our group and the weather was beautiful.
It took about 20 minutes for the kids to pick out their helmets, help everyone onto their respective horses, then give us basic instructions. We departed around 1020 EDT and rode until about 1145 EDT (these are approximate times).
$60 per person for that amount of time (roughly 1.5 hours of riding) seemed fair. Those unfamiliar with horse riding (like I was) might think that is too short a time, but physically I had had enough by that point. I could have spent the whole day taking in the scenery and mild weather, but my butt was ready for a break.
The guides were fantastic about lining each family up for a photo op on the trail. (See attached picture). The guides took the pictures with the customers' cell phones. Many tourist experiences insist on using their own photographs and charging extra for this service, so I applaud Dutch Creek Trails for this nice touch. (They have a small tip bucket sitting inconspicuously on their table, so look carefully- the guides won't hint at leaving a tip).
The staff was friendly and helpful. They may have been a bit sassy and funny but one could tell that they were always concerned for the customers' safety. They gave clear initial instructions, along with numerous reminders once on the trail. However, this never got old, as most of us needed these reminders, and they were said in an encouraging manner. (I never felt belittled because of my lack of "horse sense"). The guides were especially encouraging and patient with the younger members of the group.
Our horses were generally well-behaved and easy going. The trails were muddy and slick from recent rains, so the guides took us on the "lower" trails. (A look over the steep declines next to our trail left me wondering what the "higher" trails were like). The trail was well worn but I was glad it was the horse doing all the work. It was shady and quiet. Some of our group even briefly saw a few deer.
I'm NOT an expert on horses and have only used this group for riding. Having said that, I'm very happy with our two experiences. I felt safe, enjoyed a wonderful time with my kids, and got to experience a bit of nature with the help of some wonderful animals guided by great people. Both in 2020 and 2022, this trail ride was the highlight of our vacation to the mountains of North Carolina. I can't wait to return to Dutch Creek Trails.