History of Dutch Creek Trails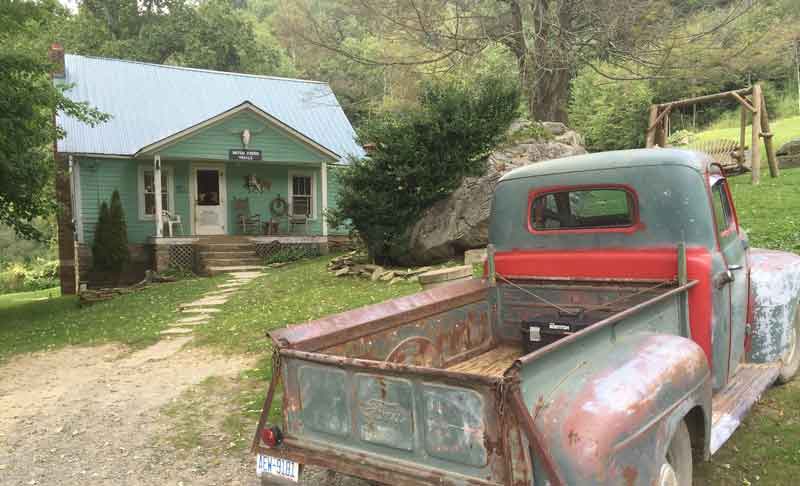 Dutch Creek Trails History
The home of Dutch Creek Trails is a 132 acre farm owned by Mr. Bennie Yates. Mr. Yates, now in his 80's moved here when he was 5 years old. He has told many tales about the place and people who used live around here. For instance, the valley, which you will ride through coming back to the barn is called the Luthrey. It is called that because many years ago a man by the name of Luthrey was found froze to death in the head of that holler; Mr. Yates and his mother planted the silver maple in the edge of the drive; The mountain that is seen from the front porch is called Taylors Mountain; … so many stories. I have ridden the trails with Mr. Yates and he has a story about every valley and knoll. There is an old grave yard and an Indian cave somewhere on the farm that I have yet to find. The views from the trails are stunning. Gazing out across lush mountains and valleys, Grandfather Mountain and Hanging Rock are profiled beautifully in the background.
We had a great experience at Dutch Creek Trails. This wasn't a ride on groomed trails, but more of a backcountry vibe. The trails we rode wound their way through a cutover forest, but offered nice medium- and long-range views. Not the place if you are looking to have your horse led by the staff, they put us on a well-mannered horse and told how to drive. Even my 8 yo daughter had no problem with her horse for the 1+ hour ride. Travis and Katie led our group and were helpful and fun to ride with. The yard was muddy (only to be expected in winter) so don't wear your nice shoes. This was the first time horseback riding for all of us, and we thoroughly enjoyed it. We look forward to a return visit in the future. Highly recommended!
Great experience for our Boy Scout Troop. We had a great ride experience. Most of our boys were first time riders and it was a great ride for them. They guides were great from start to finish. The views were icing on the cake. Thanks for a great time!
Such a great trail ride! My son (12) and daughter (6) had a great time. The folks were friendly, patient, helpful and courteous. The horses and scenery were beautiful. It was a challenging, fun ride on the mountainside.
I highly recommend this business for your horse back riding experience. The staff takes the time to match you with the best horse for you based on your experience and tells you a little about the personality of each horse. Everyone was extremely friendly and helpful throughout the whole ride. My boyfriend and I really enjoyed our trip here saturday (10/23/21). The trails are great and the horses are beautiful and well cared for. We will definitely be making another visit in the near future. Thanks again!!